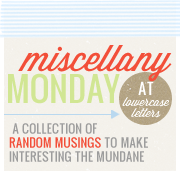 1....Giveaway Ends Thursday
There is a SUPER good chance that you could win this giveway for Two Pins of Faith from Minnie and Me. There are only 6 entries! SIX! C'mon! Who doesn't love free stuff! FREE!
Enter people! :)
2....Don't pay full price for XM
We were paying $48.95 a month for XM radio. Why? I have no idea. We don't use it that much because we don't drive the truck enough to justify the expense. So my husband called to cancel it. What did the lady working at XM radio offer us? $4.50 a month for XM. Seriously. Never pay full price. Always make the call. It's not worth it if you can save that much money. We are now paying a little less than 10% of what we were.
3....Sale Shopping
I don't like paying full price for anything if I can help it. I absolutely love sites like Groupon, Plum District, Rue La La, One Kings Lane, Ideeli, Beyond the Rack, Gilt Group, Haute Look. I also love stores such as Plato's Closet, Burlington Coat Factory, Marshall's, TJ Maxx, Gordman's. However, I can't always help not going into stores that aren't already discounted. I love sale racks and coupons. I've rarely bought any items, besides food, at full price. It's easy to do. A little bit of discipline and you've saved yourself tons of money.
4....New Hair
If you have been reading the blog recently you know that I had my long hair chopped off. I love it! It is so easy, simple, and so cute. My husband loves it, my family loves it, my friends love it, I love it. I love how you can just cut off your hair and get a totally new, refreshed look.
5....Desperate Housewives
I love Desperate Housewives. Did anyone else see the premiere last night? I am so excited for next Sunday's episode. Oh, the drama!