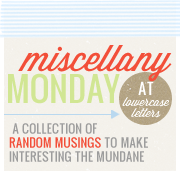 1....Don't Go Back to Bed After You've Went On a Walk
My friend Stephanie and I decided to start working out during the week. This morning was our first attempt. I was up at 6:00 a.m. and she showed up on my doorstep at 6:20 a.m. The powerwalk was nice. I loved the company and I felt energized afterwards. However, my husband was still asleep when I got home and it was still dark. So, I crawled into bed. BIG mistake! I think I slept more soundly than I ever have this morning.
2....HGTV is addicting
Today I've had HGTV on some most of the day. I think I am more interested in it than ever since we've been doing home improvements to our rental house home. And yes, photos are coming soon of our new living room, but I can't find my camera charger. Plus my parents are coming this weekend and we will have a brand spankin' new windowseat built by our wood burning stove. Can you say cozy?! It's going to be my favorite part of the house this winter.
3....Free Photobooks are Awesome
I. Love. Free. Photobooks. :)
When Picaboo had the free photobook coupon, I jumped on it. I was able to make a photobook with our wedding pictures in them. Something that I had been wanting to do. Then Shutterfly sent me a coupon for a free 8x8 photobook and I did a book over our honeymoon. I am thrilled with the results. However, seeing the quality between Picaboo and Shutterfly, I still love my Shutterfly. But...who can complain with free? (besides paying shipping)
4....No Sales
Unfortunately with my sale this weekend, I didn't receive one sale! :( I cried a little on the inside.
5....Simple Lunch
I love cream cheese. Especially Garden Vegetable cream cheese. Today for lunch I spread Garden Vegetable cream cheese on a flour tortilla, cut up a cucumber into small pieces and loaded some inside. I then finished it off my sprinkling Lemon Pepper Seasoning on top of the cucumber pieces and rolled it up like a burrito. Yummy! So simple. Plus, I thought it was somewhat healthy.